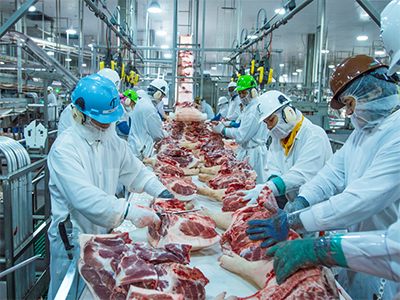 Unfortunately for meat eaters, and you and your co-workers, meat packaging plants are getting hit hard during this Covid-19 pandemic.  The meat isn't staying clean and having many employees working so closely together, they are getting extremely contaminated with germs and your co-workers are getting sick as well.  This has proven that putting up plastic sheets between you and other workers still isn't enough to protect you, or the meat.  What about the person on the other side of the conveyer belt from you?  You can't put a plastic sheet between you two, because there is a conveyer belt in the way.
Installing Safety Halos® around the plant can cut back significantly on the number of germs and contaminants that fall on you and the meat itself.  Pulling the dirty air into its housing the Safety Halo® separates the dust, germs and contaminants from the air and then blows the clean air down onto you and the food.  Having protection like this directly above the conveyer belt is extremely helpful in not only keeping the meat clean but also helping to prevent employees on either side from sharing their germs with you.
Installing an Air Cleaning BlowerTM (ACB) can also provide significant benefits to the work area by removing particles without using any filter elements and spreading clean air throughout the room.  Instead of blocking and collecting the debris with filter media, ACBs use the momentum of the particles to separate them from the air and eject them directly.  The big benefit:  they blow and clean air without any filter elements to buy, store, replace or dispose.  Since debris does not accumulate in the units, you can count on steady airflow, air pressure and power consumption.  No filter elements means no filter maintenance—or deferred maintenance by you!