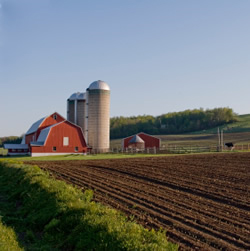 As a farmer, dust and pollen are inescapable problems of your job.  From chicken and cattle raising to plowing and grain harvesting, control of dust is one of your key concerns. Developed specifically to remove particles in tough, dusty environments without using filter elements, Air-Cleaning BlowersTM (ACBs) can provide clean air to farmers by removing most kinds of farm and grain-processing dusts while blowing out clean air for ventilation, pressurization and keeping equipment, animals and you cleaner.
Instead of blocking and collecting the debris with filter media, ACBs use the momentum of the particles to separate them from the air and eject them directly.  The big benefit:  they blow and clean air without any filter elements to buy, store, replace or dispose.  Since debris does not accumulate in the units, you can count on steady airflow, air pressure and power consumption.  No filter elements means no filter maintenance for you!
Unlike cyclonic systems, spin blocks and other momentum-based air-cleaning systems, ACBs just throw the debris out.  No wasted energy, reduced air pressure nor clogging of valves and secondary blowers.  They also eliminate the need for the compressed air, and the energy needed to produce it, that many "self-cleaning" systems use to blow out accumulated debris.
Independent testing found that standard ACBs remove 98+% of all particles in the air down to 10 microns in size.  The smallest particles most people can see are about 50 microns, which means that ACBs remove virtually all the mass of dust in the air.  They also remove larger particles such as wheat chaff and wood chips.  As an option, ACBs can be made safe for hazardous (explosive) dusts as well.
ACBs also remove rain, mist and snow from the air, which keeps the air dryer and reduces the load on air conditioners, refrigeration and other dehumidifying equipment.  Another benefit:  unlike filter media, they will not become wet—or freeze up—and stop air from passing through.
No matter what kind of farm you operate, Air-Cleaning BlowersTM can help provide clean air to farmers .  Originally developed for heavy industries such as steel, mining and fertilizer plants, ACBs are so effective that they are used by the US military in the Middle East to keep air conditioners cooling in a sandstorm.